In the Heart of the Diamond Empire
De Beers diamond mines and Kimberley.
These welcoming signs are by the door of a De Beers diamond mine workers dormitory in Kimberley South Africa. Visitors can only come while mineworkers are at work. In the evenings thay can have no visitors. . All accomodation is single-sexed - if a wife of a black miner also gets a job in the mine, she must stay in the single women's dormitory. If she sleeps with her husband, they can be punished.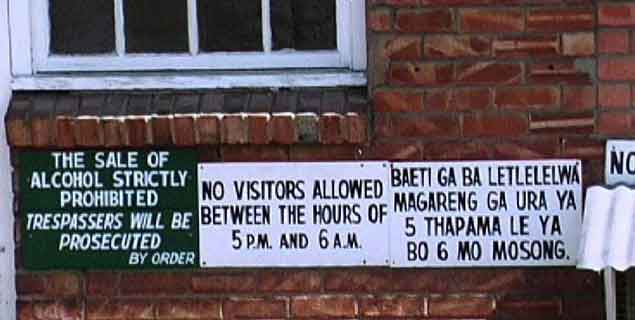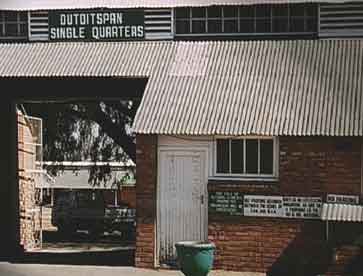 If the miners choose to live outside the mine, as most do, they make their home in the sprawling poverty-stricken black townships that surround the elegant centre of KIMBERLEY, where De Beers still has its headquarters. On their low pay, they cannot afford anything better.
Duststorms constantly enshroud the townships blown from De Beers spoil tips.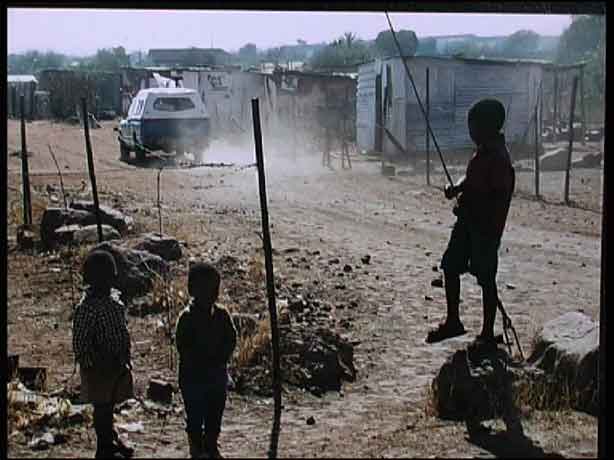 And even in death, there is apartheid. While the whites are buried in an elegant lawned and fenced graveyard, the black mineworkers are buried in poverty. Their grave stones, if they have them, have the name of the dead hand painted onto them.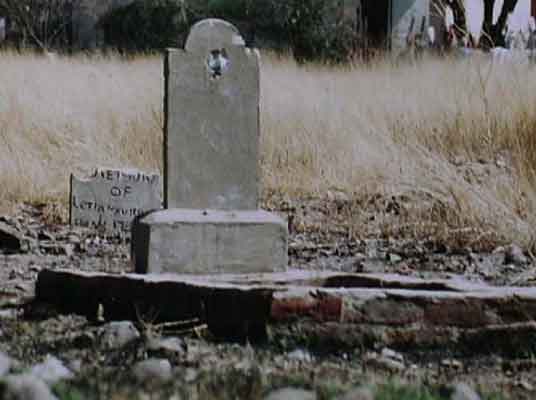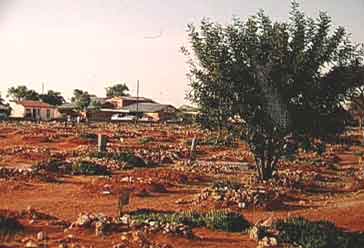 - a view of the Black's graveyard in Kimberley
The local women are daily out brushing and washing the gritty dust away. The homes are kept very clean despite their poverty. Many cannot afford electricity.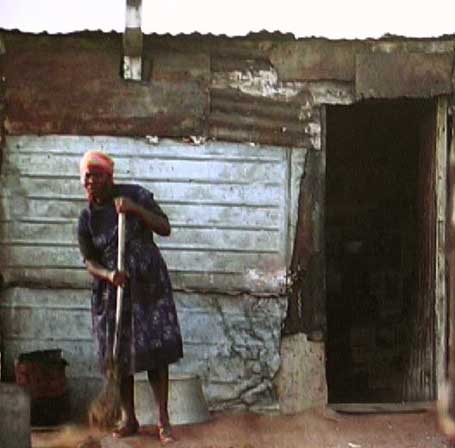 A township street in Kimberley. The rock in the foreground is the typical colour of kimberlite - the rock in which diamonds are found. `It is probably part of a type. The rock degrades in sunlight helping to create thick clouds of dust when the wind comes up.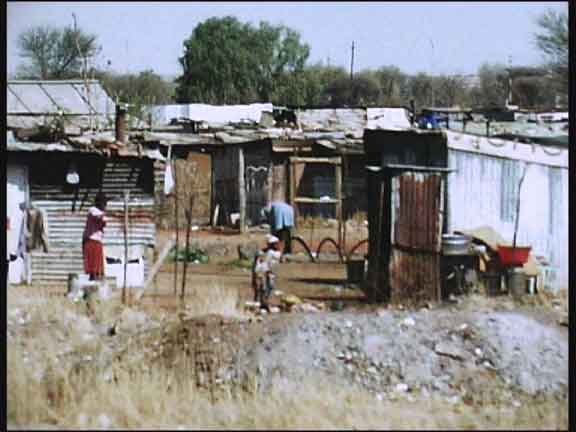 Click here for more photos of Kimberley's diamond miners and black servants homes
Click here to go on to what happens at the Koffiefontein De Beers diamond mine.
Here for De Beers Klienzee diamond mine.
Click her to go back to the home page for this diamond website
To Contact the Author Janine F. Roberts Tap Here
c2002 Janine Roberts
All Photos are by Janine Roberts c2002 All Rights Reserved