ReviewReview of Glitter and Greed in a leading UK newspaper "The Independent"

Blood stained Diamonds
Must be Cleaned.
The miner below sweeps rock cracks for diamonds in the forbidden zones controlled mostly by De Beers along the windswept and blistering hot Atlantic coast of Southern Africa. He warns a pittance and unlike white workers on higher wage bands, is not allowed to have his wife living with him in the cdiamond mining town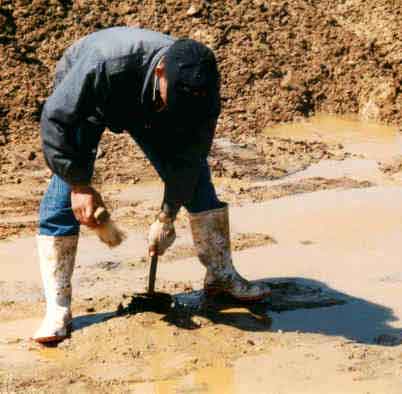 For too long diamonds have been sold to us as tokens of human love
By an Industry that employs as Diamond Cutters
Children working in dangerous conditions, often in debt bondage;
That gravely endangers the lives of thousands of African miners;
That buys "blood diamonds" that fund wars;
that fixes the prices of cheap diamonds at sky high levels;
In which this beautiful crystal has become tainted.
Join the campaign to purify diamonds and make them worthy of being our engagement stones!
Ms Janine Roberts - the site's web mistress and author of books and producer of films on diamonds and human rights- - to contact by email, click on the following blue text.
Read Her brand new investigation of the diamond world - fully updated, deals with terrorism, many new revelations... the Book's name - "Glitter and Greed"
Email her here. diamonds@sparkle.plus.com
c2003 - Janine Roberts.